We give deserving youth an ADVantage through tennis
We give cash donations to sponsor promising, underprivileged kids and equipment to help drive grassroots efforts equaling 5% of all ADV Tennis profits.
Tennis Cambodia
Who they are
Tennis Cambodia is the federation in charge of bringing tennis to the Kingdom of Cambodia with a mission to make tennis accessible for all.
How we're helping
Providing gear for both their grassroots and elite level tennis programs. This includes overgrips and wristbands. We are working on sponsorship programs to help talented kids advance in tennis. Also, Lavie (ADV Tennis founder) created a documentary to share the amazing return of tennis to Cambodia.
Facebook PAge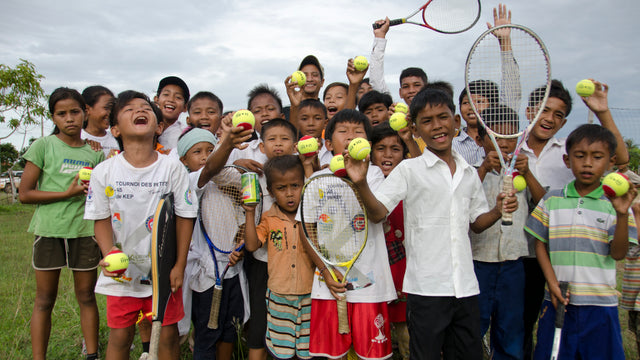 Cambodian News
Highlighting ADV's impact in the country
"From what we get, we can make a living; what we give, however, makes a life."
Club Tennis Deschapelle, Haiti
Who they are
Deschapelles, a small village in rural Haiti, kids who might not even have sneakers are playing tennis! Tennis gives the kids of Deschapelles something fun to look forward to every day. It has the potential to change the course of their lives, and in turn, to lift up their families.

How we're helping
Provide cash donations to sponsor their top 15 juniors who train at Club Tennis Deschapelle. This includes funds for their coaching and nutrition. Additionally, we have sent overgrips and strings.
Visit Website
"I wanted to use sports for social change."
Atlanta Youth Tennis Education Foundation (AYTEF)
Who they are
A nonprofit 501 (c)(3) organization that aims to ENRICH the lives of under-resourced youth through tennis and education.

How we're helping
Provide equipment to their youth programs, including overgrips, strings and dampeners.
Visit Website